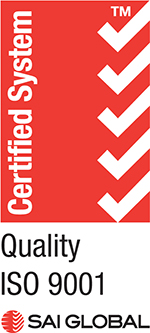 Your Sheet Metal Quality Requirements
---
Many of our customers operate Quality Systems that require their OEM supply chain partners to also operate and conform to certified quality systems. As part of our commitment to providing a state-of-the-art OEM sheet metal manufacturing service, FORM2000 has developed, implemented and continues to improve its sheet metal fabrication processes and systems in accordance with an accredited ISO9001 Quality System framework.
Contractural Requirements
---
FORM2000 is committed to providing sheet metal products and services, which conform to the contractual requirements of its customers and all applicable regulatory authorities.
Third Party Audits
---
Should a third-party supplier audit be required as part of your Quality System, we are set-up to provide this service. We encourage our customers to visit our Melbourne sheet metal factory.
Subscribe to our newsletter
Legal
| Copyright ©2021 | FORM2000 | Web Design by
JWPM Industrial Strength Marketing